VRF AC System
VRF AC Dealer in Maharashtra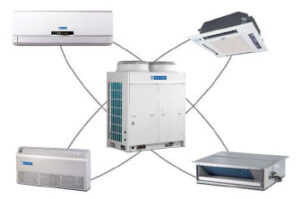 Selica Cool Comfort is amongst the leading VRF Dealer in Maharashtra, Variable refrigerant flow (VRF) is a HVAC technology, like ductless mini splits VRF uses refrigerant as the cooling and heating medium. Nowadays VRF's are extensively used to provide separate control, across multiple zones of the complexes of the buildings like schools, hotels, hospitals where specific areas of the building have their own heating and cooling requirements. Heat recovery VRF technology allows individual indoor units to heat or cool as required, while the compressor load benefits from the internal heat recovery. Energy savings of up to 55% are predicted over comparable unitary equipment, this also results in greater control of the building's interior temperature and benefits the building occupants.
Silica Cool Comfort, we are suppliers of Variable Refrigerant Flow (VRF). This type of system consists of a number of air handling units connected to modular external condensing unit. The refrigerant flow is varied using either an inverter controlled variable speed compressor or multiple compressors.
The proper selection of HVAC system is very important in Computing specially Data Centre, as the HVAC systems control the ambient environment (temperature, humidity, air flow, and air filtering) and must be planned for and operated along with other data center components such as computing hardware, cabling, data storage, fire protection, physical security systems and power etc, Silica Cool Comfort can be a great strategic partner in setting the Data Centres and Computing Plants.
With the immense belief, confidence and potential of our technocrats, we are able to deliver highly efficient and environment friendly VRF systems which matches all the available International standards.